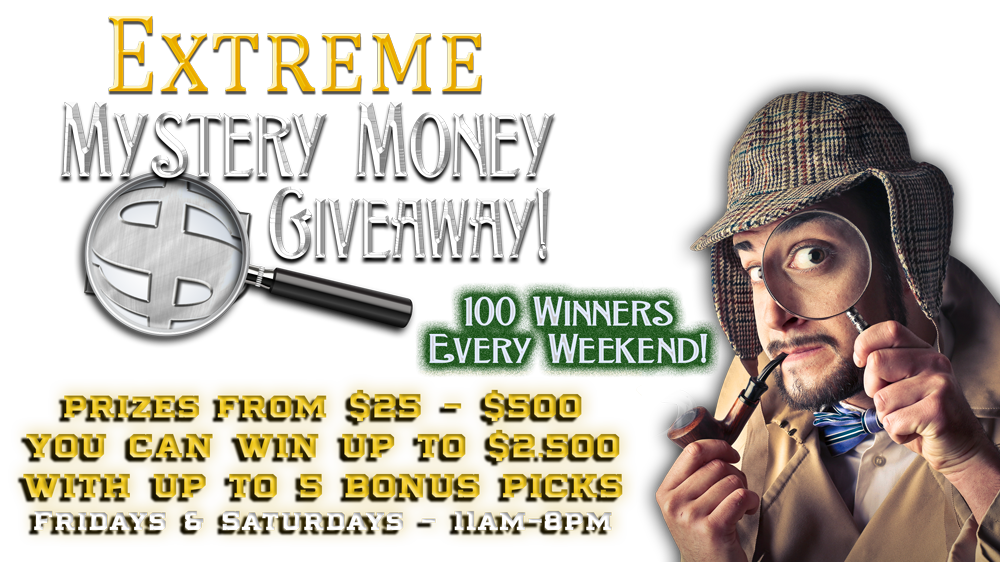 Extreme Mystery Money Giveaway
Drawings every Friday and Saturday in August.

100 winners will be chosen every weekend as players win their share of $40,000 in cash & free play prizes.

Five lucky winners will be selected every hour from 11am -8pm to remove a prize piece from the Extreme Cash & Free Play Game Board.

Player will win the prize that is on the back of the Extreme Cash & Free Play Game Board piece chosen.

Included on the game board will be bonus prize pieces whereas players can select two, three, four, or even five prize pieces from the game board and player will win the aggregate total of all the prize values chosen.

Prize pieces on the game board include $50 in free play up to $500 in free play.

 

The game board will also include $500 cash prizes.

Players can continue to select the designated number of prizes as selected from the game board.

Players earn 1 virtual entry for every 100 points earned.

Drawing entries are valid weekly and are voided after every Saturday drawing at 8pm.

Promotional aggregate cash prizes of $600 or more will require player to sign a 1099 form.

Players can earn 5x entries every Friday & Saturday for the $40,000 Extreme Money Madness Giveaway during the month of August.

Start earning 5x entries at 12:01am through 11:59pm on Saturdays in August.