The entry to great promotions
The More You Play the More You Win
From Tournaments and Slot Promotions, to our exciting Casino Special Events and parties, it pays to have a Baldini's B Rewarded Players Club Card. Sign up today – the more you play at our Reno/Sparks casino, the more chances you'll have to win!
What is a B Rewarded Players Club Card?
The most valuable card in the casino is not found on any of the tables. It is the "B Rewarded Card" that you will find at the Players Club. This little piece of plastic is worth a lot more than the average player might think.
Years ago only the table players were the ones to receive a Comp which is short for complimentary. A rebate card, for lack of a better word, that the casino returns to you for your loyalty.
Everyone can earn comps that include Free Play, food, shows, and in some cases a cash rebate. By signing up for a B Rewarded Players Club Card, you will also be eligible to receive information about special promotions going on.
Earning comps is a way of getting something extra for your casino dollar, and you can't get them if you don't have a B Rewarded Players Club Card.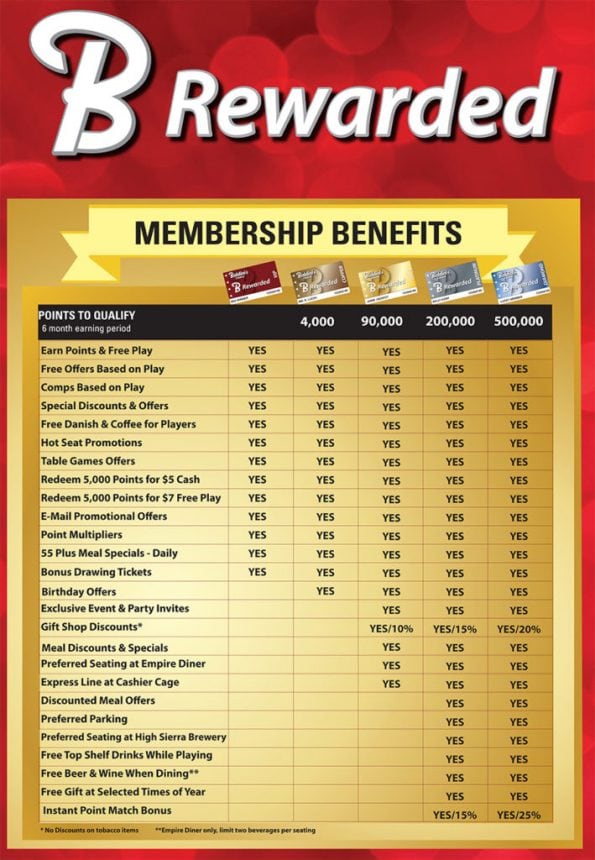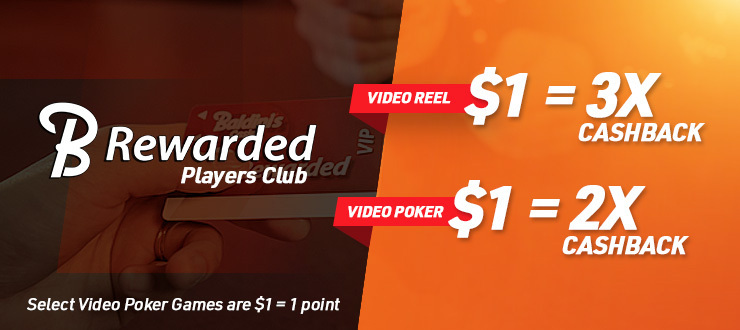 The B Rewarded Players Club Card
Be a part of the most generous club in town! As a B Rewarded Player, you will see your points and comps go up at an extraordinary rate. We believe that every time you visit Baldini's Casino, it should be your favorite visit. That's why we're always offering special promotions. It's our job to surprise you as best as we possible can, over and over again. Sound like a tall order? That's okay, get to know us and you'll soon find out that we know how to rise to the occasion.
We have improved the way you earn points!
For every $1 you Play, Not Win or Lose, You Earn:
➤ Earn 3x Points on All Video Reel Machines.
➤ Earn 2x Points on Video Poker and Keno Machines.
➢ Select Video Poker Machines Will be $1 = 1 Point
➥ Video Reel $1 = 3x Cashback
➥ Video Poker $1 = 2x Cashback
Earn Up To 3x Faster All Day, Every Day!
Your Entry To Great Promotions
Want to join Reno/Sparks top-rated Players Club, The B Rewarded Players Club? Sign up for a B Rewarded Players Card today, where you'll earn 3 times the points for every dollar you play. Redeem those points for amazing rewards, like dining and entertainment packages, free slot play, or cold hard cash! You can sign up for a B Rewarded Players Club Card on the website right now, or simply drop by Baldini's Casino to sign up whenever you like!
Dining Promotions
Forget coupon clipping, there's no need for dining coupons at Baldini's. Our restaurant deals offer incredibly low prices year-round, with great value from casual eateries like the Brickyard Bar and Grill, to our exquisite meals offered at the Empire Diner. To get the best bang for your buck, stop by any eatery in our casino with your B Rewarded Players Club Card to receive the best player's discount in Reno/Sparks!
Gaming Promotions
Don't forget your B Rewarded Players Club Card, as it's the ticket to some of the best gaming promotions in Northern Nevada. We do casino promotions better than anyone, so sign up today to start earning rewards from all of your favorite games. Check out this month's current gambling deals!
Frequently Asked Questions (FAQS)