2 Top Dining Destinations and Great Daily Specials
From our burger and taco baskets to our prime rib and everything in between. Baldini's has great food at great prices.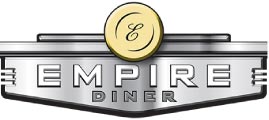 Settle back into your comfy booth, surrounded by dark warm and inviting wood panels reminiscent of the golden age of railroad car dining. Pull up close and get ready for the unexpected taste of exquisite cooking. Whether breakfast, lunch or dinner, you'll choose from a wide variety. Fluffy pancakes and perfectly done eggs to those just right cheeseburgers with fries, golden brown and crispy on the outside and bursting into fluffy white clouds of flavor on the inside. All your favorites are here. Sirloin steak, tenderly pink prime rib, creamy fettuccine Alfredo, and everything in between! We're open 7 days a week and always ready to step up with courteous, quality service. We sincerely appreciate that you choose us. Come in and see how much! Seating available for any size group, from intimate couples to family gatherings.