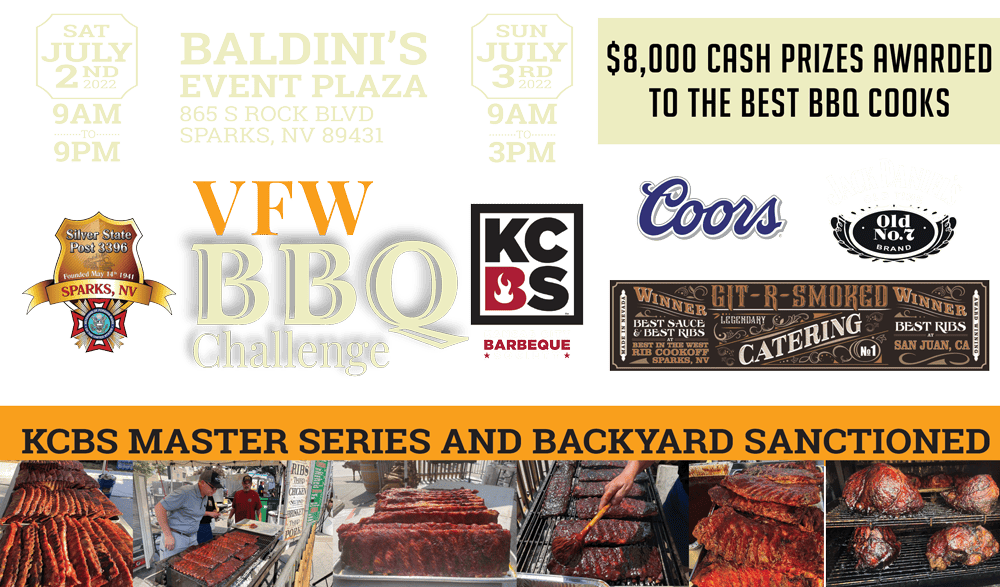 2nd Annual BBQ Challenge Hosted by the Veterans of Foreign Wars and Kansas City BBQ Society
Try the best BBQ around! Enjoy tender and tasty BBQ from the best chefs, restaurants, and award-winning cooks west of the Mississippi River!
$8,000 in cash is being awarded to the best BBQ chefs! So, you know there's going to be some seriously delicious food!
HUGE 2 DAY EVENT! FREE LIVE ENTERTAINMENT both days! Beer garden, food, drink, and merchandise available. Make plans now to join us Saturday and Sunday, July 2-3!
Bring the family! Tell your friends! And come to the VFW barbeque competition & concert! Admission is FREE! Two days of BBQ, beer, & music under the sun!
Plenty of free parking. Come to Baldini's, 865 South Rock Boulevard, Sparks, Nevada 89431.
Doors open at 9am both days for this Kansas City BBQ Society hosted event at the Baldini's Event Plaza.
To be a vendor or participate as as cook please call David Sousa 775-544-8786 or Kevin McFarland 775-351-7236 or visit here